El sábado pasado fui a
Criteria Collectibles
para hacer más intercambio de juguetes. Sucede que Bruno tiene una caja en el suelo con los items sin valor de reventa, principalmente porque están rotos, muy usados o dañados. En esa caja estaba esta muñeca:
Last saturday I went to
Critteria Collectibles
to do more toy exchanges. It happens that Bruno has a box on the floor with the items with no re-sell value, mainly because they are broken, too used or damaged. In that box it was this doll: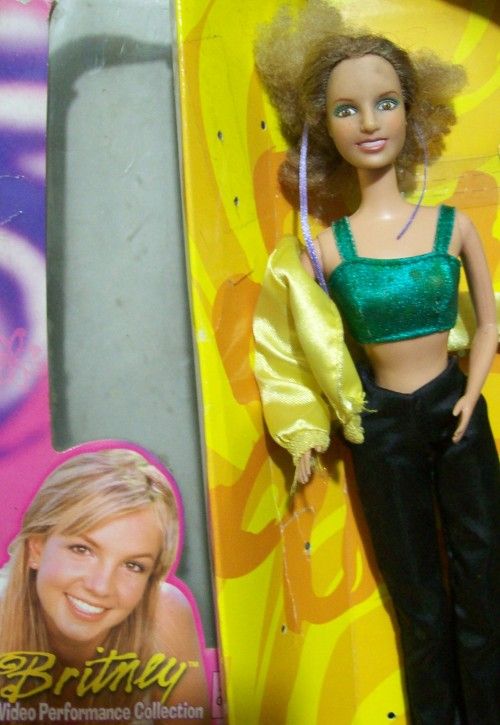 Bruno insistió que me la llevara. Dudé porque estaba sucia, su cabello y su ropa estaban en muy malas condiciones y no me gustaba la pintura de su cara. Al final la puse en mi mochila. Cuando llegué a casa, la lavé, corté su cabello y le probé diferente ropa, nada me convenció, entonces la puse dentro de la bolsa de las donaciones que tenemos en casa y me olvidé de ella.
Entonces cogí un resfriado el Domingo que duró hasta el Lunes. No pude hacer nada excepto yacer en cama sintiéndome enferma y...
... pensando acerca de la condenada muñeca Britney.
No podía sacarla de mi mente, era como si me estuviera suplicando que le diera una oportunidad. De modo que al día siguiente la saqué de la bolsa e hice un último intento.

Esta vez las cosas fueron distintas. Le dí un lindo vestido, un lazo en su cabeza, una cadena en su cuello... bueno, éste es el resultado:
Bruno insisted to take her with me. I doubted because she was dirty, her hair and her clothes were in pretty bad condition and I didn't like her face painting. At the end I put her inside my backpack. When I arrived to home, I washed her, cut her hair and tried different outfits on her, nothing convinced me, so I put her inside the donations' bag we have at home and forget her.
Then I got a cold on Sunday that lasted until Monday. I could do nothing but laying on my bed feeling sick and...
... thinking about the damn Britney doll.
I couldn't take her out of my mind, it were as if she were begging me to give her a chance. So the next day I took her out of the bag and made a last try.
This time things went different. I give her a pretty dress, a bow on her head, a chain on her neck... well... this is the result: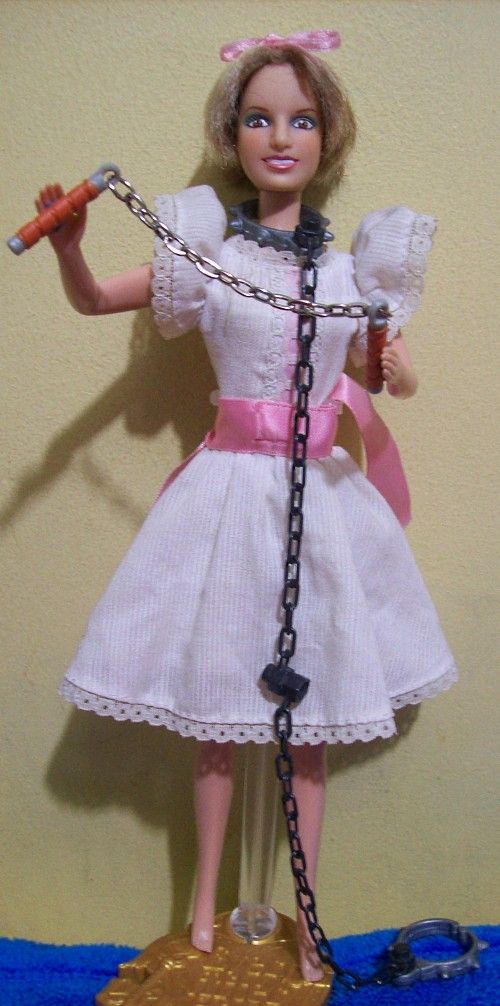 ¡¡¡¡ASASFASDDAFR!FTY!G!!!!! ¡¡¡¡Ella es increíble!!!11!
ASASFASDDAFR!FTY!G!!!!! SHE IS AMAZING!!!11!
Sólo miren su adorable macabra demente asesina cara:
Just look at her adorable creepy insane murdering face: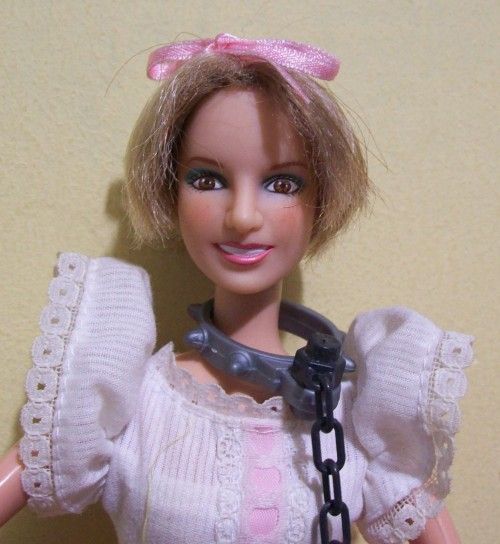 Esta señorita es una Diva de Película de Horror :D :D :D
This lady is a Horror Movie Diva :D :D :D
Ella necesitaba un hacha
.
She needed an axe.
Como ya no me quedan hachas tamaño Barbie, le hice una con un palito de plástico, papel y las envolturas de mis pastillas (he estado enferma ¿recuerdan?):
As long as I didn't have any more Barbie-sized axes, I made her one with a plastic stick, paper and the wrapping paper of my pills (I was sick, remember?):
Esta es Britney ahora:
This is Britney now: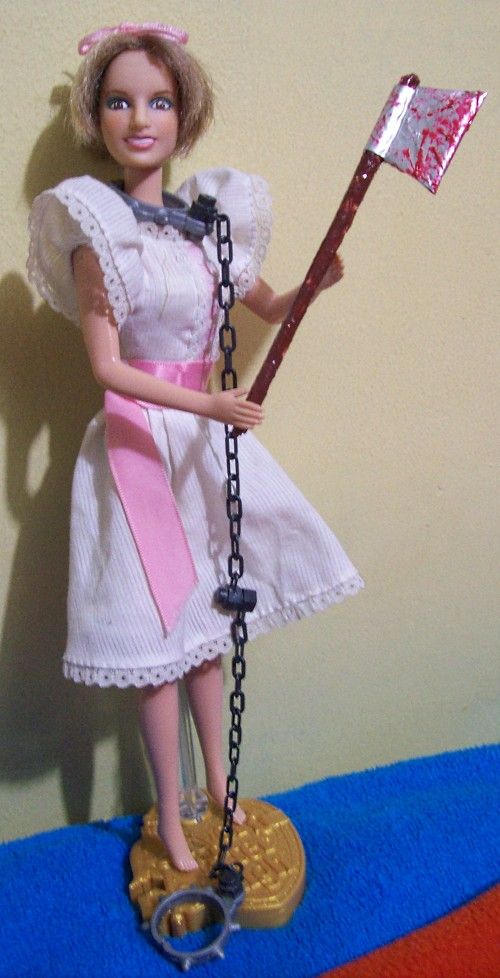 Y esta es Britney a punto de decirle "Gracias" a Dexter por dejarle usar su base:
And this is Britney about to say "Thanks" to Dexter for leting her use his stand: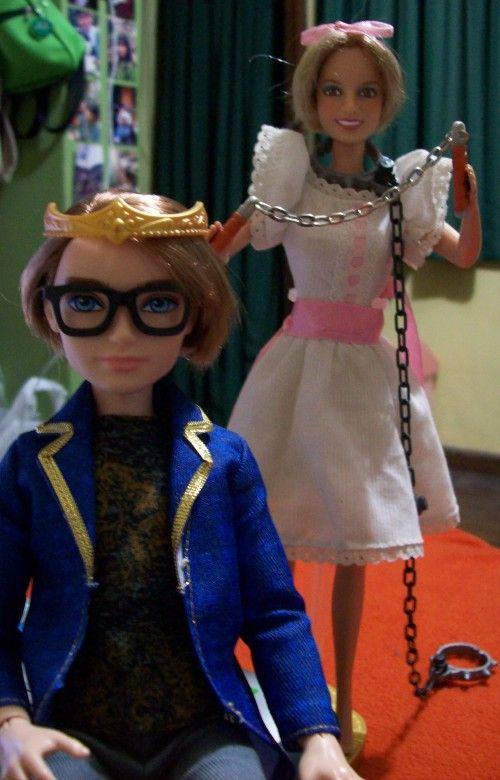 :D
Información de la muñeca / Doll Information:
Britney Spears: Video Performance Collection. Play Along Toys, 1999.