Bruno and me were traveling in
Cusco Region
the last two weeks of December :D
Cusco Region includes a part of Los Andes Mountains and the Amazon Jungle.
First we arrived to Cusco City, locate in
Cusco province
)
There were Xmas Lights!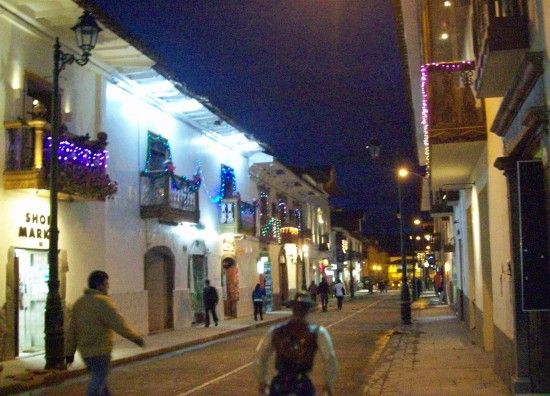 Form late November to late March it is the rainy season in Los Andes. Despite summer is getting started In the South Hemisphere, the highlands are quite cold because the "rainy season" also brings snow (if you're above 4500-4800 m.a.s.l) or hail if it is cold enough. I recommend you to bring proper clothing and shoes that resist getting wet.
Because of influence of Lima City lifestyle (located in the desertic sub-tropical peruvian coast) people use the worst fabric combination for rainy-hard weather: cotton, wool and jeans. In Lima it never rains enough to use proper rain clothing and its weather isn't too cold or too hot for using special clothing. In peruvian coast's boring weather you can wear cotton, wool or jeans with no problem, but in the rest of Perú weather is so hard that this combination will make you feel unconfortable.
If you walk across Cusco city you can identify peruvians (mostly locals that are no wearing their traditional clothing and people from Lima city) because they dress as if the were in the peruvian coast!!!
D'Oh!