Hello, my name is… (Hola, mi nombre es...)

Hola, mi nombre es Yelinna Pulliti :D
I was born and live in Lima - Perú and I'm almost 33.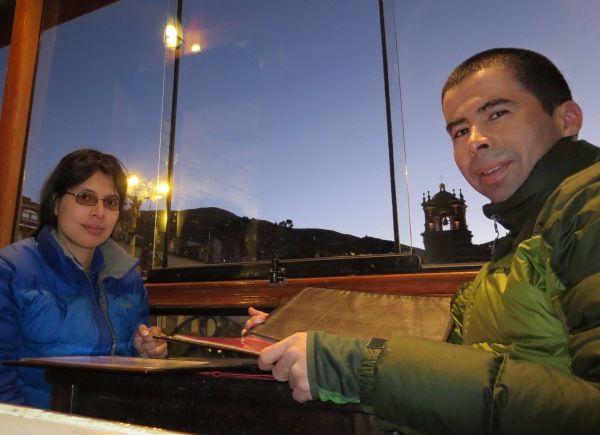 This is a photo of Bruno and me in Puno - Perú two weeks ago :D

Some fun facts about me:

I have a degree in Electronic Engineering, but I work as a programmer (Software developer).
My thesis project was a software to detect waveform of ECG signals of lab rats in the Faculty of Human Medicine of my university. That's why I have this photo of me pretending I'm eating a rat.
I love rodents: pet rats, lab rats, mice, rabbits, guinea pigs...
When making my thesis, I had the opportinity to see human corpses.
I can program in these languages: C#, C++, VB, VB.net, Matlab, Python.
I'm a sci fiction/suspense writer, I have a few publications here in Perú.
I'm not an artist, but I try hard as hell!!
I'm scared of snow and ice... funny because I love to go to snowy mountains here in Perú. The landscapes are awesome!
In fact, I got scared of everything, I'm an extremely nervious person. You can scare me more easily than scaring this guy.
I don't play video games but I love to see others playing them. Also I love Super Paper Mario's plot.
I love turkish rock music.
I love to read. My favorite writers are Kafka, Borges, Pratchet, Chejov, Verne, Asimov and Lovecraft.
I like Friedrich Nietzsche and Bertrand Russell.
I suck at building anything, even Legos hate me.
I think that, deep inside, Asperger syndrome is cool.
I love prime numbers.
I hate tan.
I don't drink alcohol.
I don't smoke and I hate people who smokes.
I suffer from migraines.
I'm less than 1.6 meters tall.
I don't want/I can't own a car. Driving a car is too much for my nerves (specially if you life in a region where traffic is deadly chaotic).
I want to be a Real Live GI-Joe!!! Or an Astronaut, or Indiana Jones/Daring Doo, or... This sounds crazy, but at least...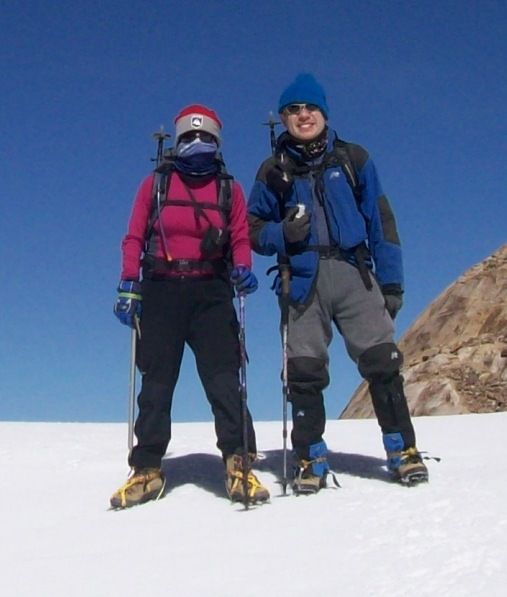 I'm trying!!. The guy next to me is our buddy Juanito Narvaja, by far, a better climber than me. He was rejected by the Cobra Commanders because he is too friendly and nice. I use to go to the snow all covered because I don't want UV radiation to touch my skin.

Now I will leave you with a photo of my Foxy Vaski looking to the Titicaca Lake in our room in Copacabana - Bolivia.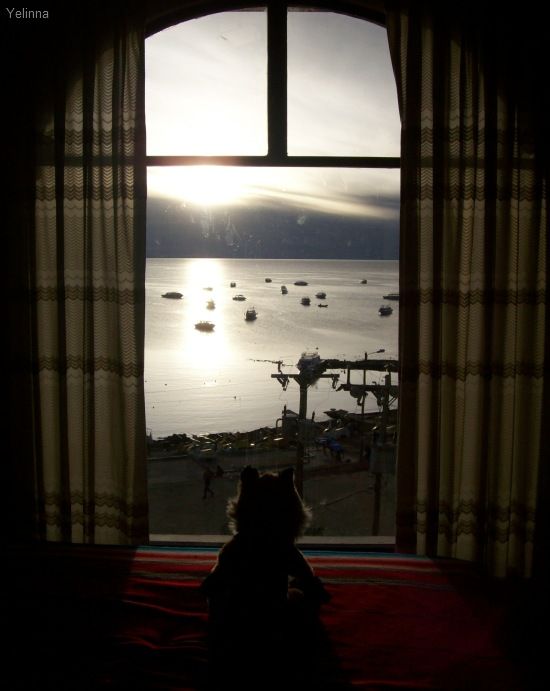 More interesting League Members:
Cool and Collected fears the End of Internet
Crooked Ninja has more stuff than me!
Stunt Zombie makes Zombies awesome
I wish I can visit Monster Cafe someday
I want to be an old lady with toys everywhere!!!! Yeeaaahh!!
Frankenstein Monster Forehead is hilarious!! :D :D :D
I can't decide who is the adult or child...
This one is my favorite :D :D